Dental visits in the time of COVID-19: Phase 2 (Heightened Alert)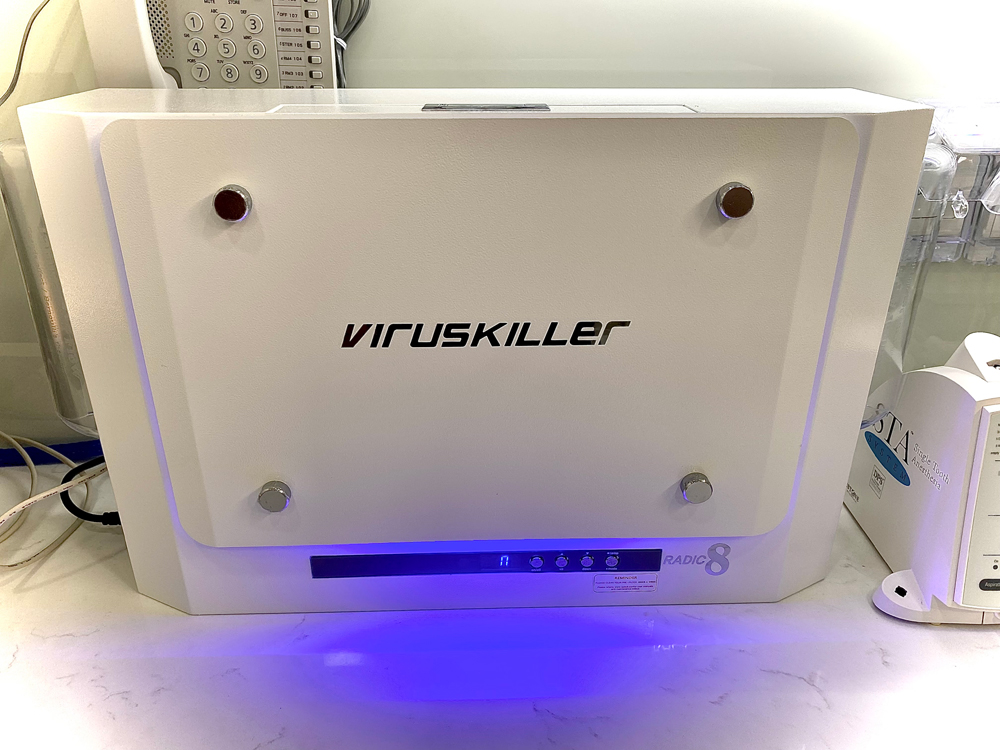 Dear patients, as we return to Phase 2 (Heightened Alert), the team at Skye Dental would like to reassure you that we are continuing to take the utmost care to look after you during your visit to the dentist.
The restrictions regarding "Cessation of Indoor 'Mask-Off' Activities" during this phase DO NOT apply to medical and dental appointments. (MOH News Highlight 20th July 2021)
We would like to take this opportunity to show our patients how we at Skye Dental take health and safety very seriously to ensure the protection of both patients and staff.
Your safety matters
We have installed high-tech equipment in order to make the dental visit as seamless, as contactless and as reassuring as possible. We are also firm believers and practitioners of "Universal Precautions" in delivering dental services, which means that we treat each patient with the same amount of care and attention no matter what their health history is. Your health and peace of mind are the most important things to us, so we want to show you what measures we are taking to help ensure these.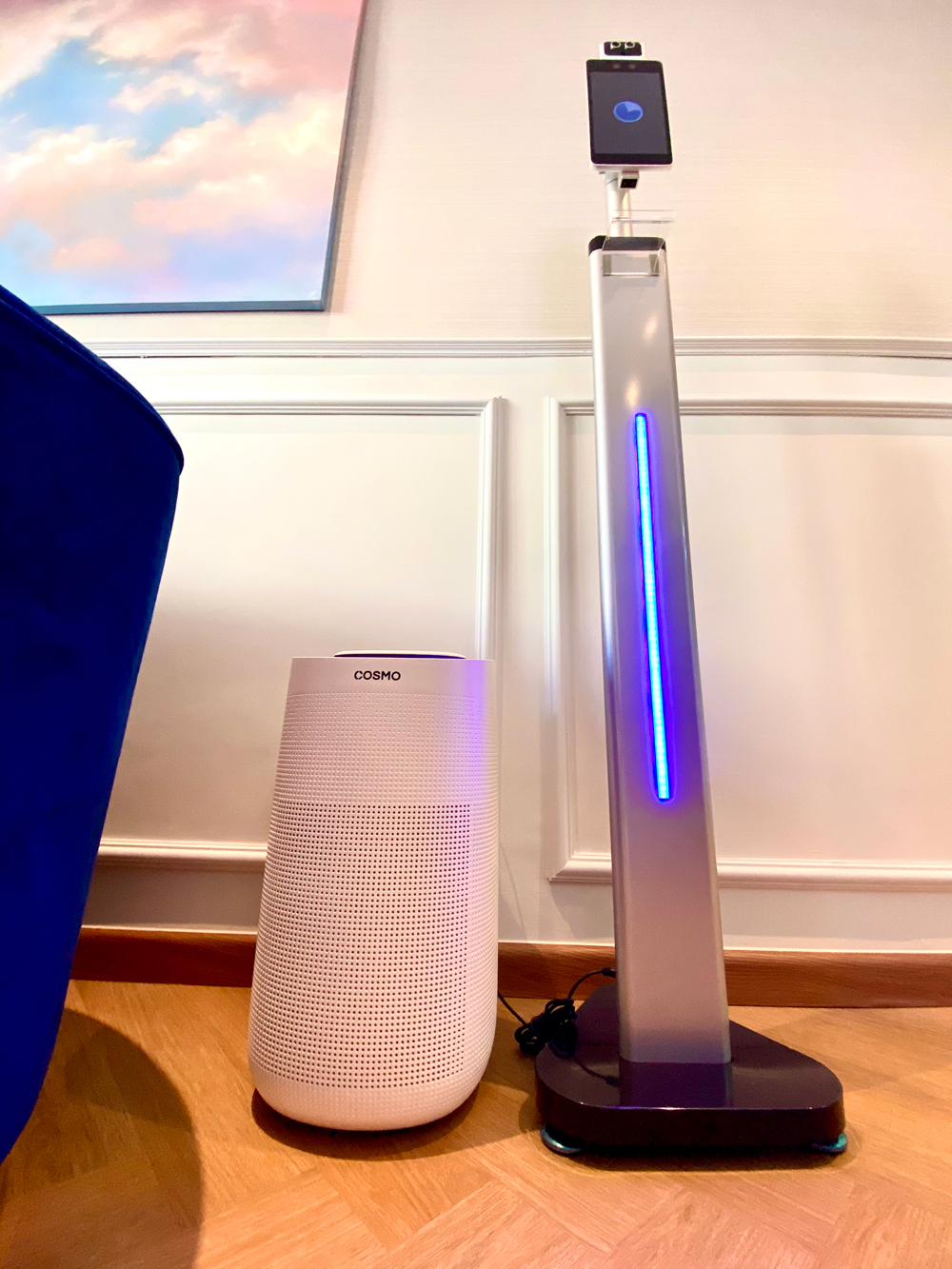 Let me introduce you to our Temperature detector. She is a sleek machine placed in our reception area, used for recording temperatures of staff and patients coming in and out of the practice (and storing them digitally so we can accurately trace who has been at our clinic). We also record the temperatures of our staff twice a day as per MOH guidelines.
Once inside the dental treatment room, our next level of protection for you is our highly effective Radic8 VK401 "Virus Killer". This ozone-free machine is more than just an air purifier.
The Virus Killer has been proven and tested to:
Control airflow to optimize disinfection in the breathing space
Deactivate viruses and bacteria with unequalled efficiency
Effectively neutralize noxious gases and larger particles such as dust, dander, and other allergens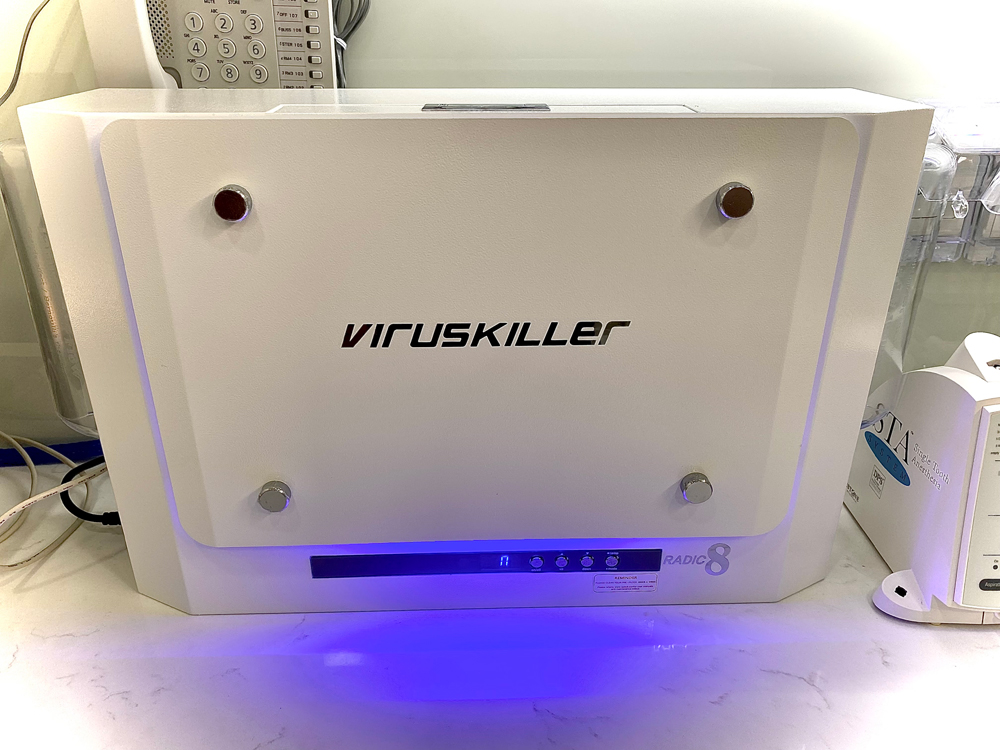 As air passes through the Virus Killer, it goes through a two-stage process to achieve the best results in purification and disinfection:
The pre-filter, HEPA filter, and activated carbon filter take care of larger particles like dust, pollen, smoke, and some VOCs — this is where most air purifiers end.
Organic and biological contaminants are exposed to a patented UV-C Reactor Chamber, where germicidal hydroxyl radicals are produced to efficiently deactivate viruses, bacteria, mold, and fungi
We also have air purifiers around the clinic, to ensure good air quality, and we are even lucky enough to have windows in the clinic, to enable us to circulate the air better, as recommended by the Ministry of Health (MOH).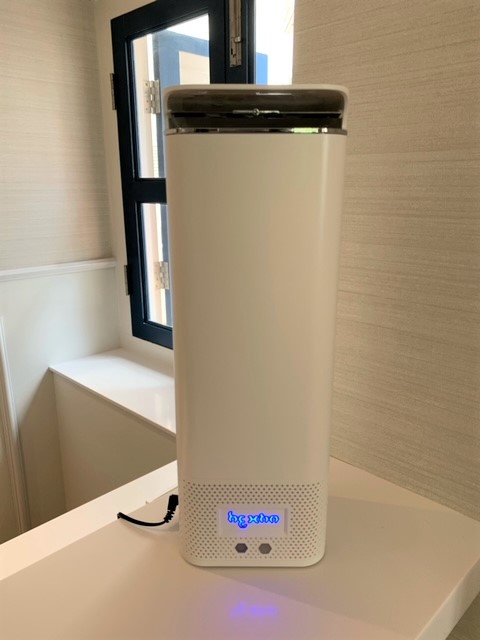 As well as these extra measures, we implement the highest industry standard measures to ensure all instruments are put through the toughest cleaning process in medical care.
They start in an Ultrasonic Bath, to help vibrate and remove all the debris from them…..
then they are thoroughly washed and dried using our medical washing machine, the Melag Melatherm 10, one of the most modern washing machines for dental instruments.
then they get packed, sealed and go into the autoclave (the Vacuklav 41+ Evolution) for a thorough sterilisation process, to remove all evidence of bugs and pathogens…..
once they have finished this cycle, they are ready for use! Once cleaned and sterilized, instruments are packaged and stored separately to prevent the risk of contamination from aerosols.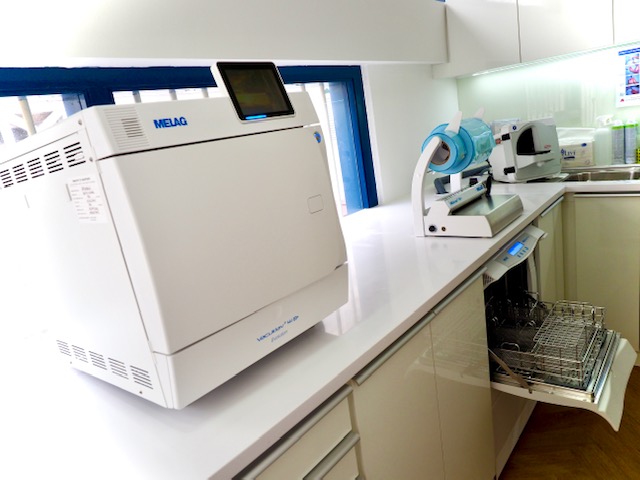 **All cleaning and sterilisation procedures are done in a designated decontamination room that is separate from our treatment areas.**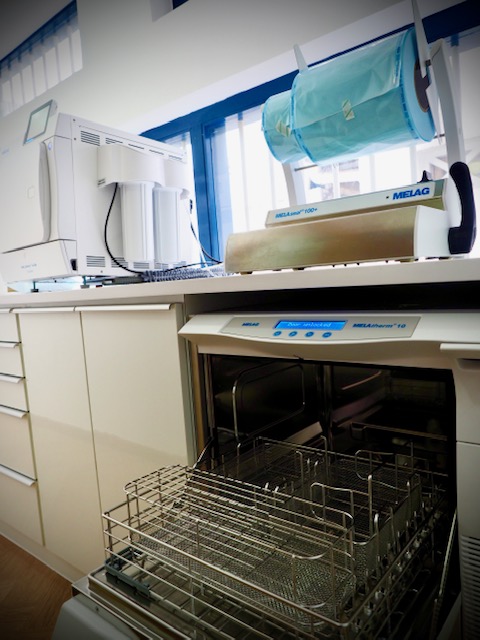 As the sterilisation of instruments is carried out on location at Skye Dental, we can ensure complete control and completion of the processes, so you can be treated with the highest standard of cleanliness.
Our decontamination room complies with best practice recommendations to ensure the layout within this area progresses from the receipt of dirty, used instruments towards clean instruments sterilized in a specific controlled clean area. A validated washer – disinfector such as the Melag – Melatherm 10 is considered also a best practice achievement for a dental clinic.
At Skye Dental, we understand that this has been a stressful and challenging time for many people, and we strive to make your dental visits as comfortable and safe as we can.
This blogpost was written by Drs Andrew and May. If you have any queries regarding this topic, please do not hesitate to contact us and we will try our best to answer them.
---