Karius & Baktus!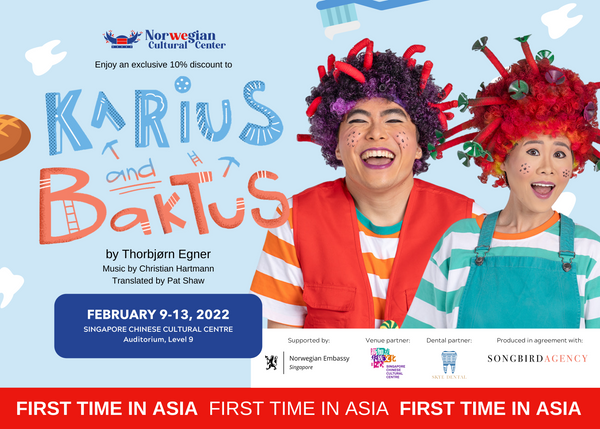 This is Norwegian for caries and bacteria, or dental decay and bugs…. it is also the name of a famous Norwegian tale of two trolls who live in a boy's teeth. This is a very old traditional tale told in Norway to young children and it has good messages about dental health. Now, in a world premiere and exclusive, the tale is being brought to life in the form of a stage production in Singapore!
The production is run by the Norwegian Cultural Center and there will be English and Chinese shows to captivate the audiences and bring the story across different languages. The show will be running from 9th February to the 13th February and will take place at the Singapore Chinese Cultural Centre Auditorium.
Skye Dental is the exclusive Dental partner and sponsor for the production, as Dr May Eide felt a strong connection to the story, being a native Singaporean whose father is Norwegian. Part of her childhood was spent growing up in Norway, listening to these stories of Karius & Baktus, so we felt it was just right to be involved in this world exclusive story-telling.
Tickets will be on sale through Sistic and also available to purchase at Skye Dental. They are priced at $35-38 and the production is suitable for all ages but is particularly good for those little ones aged 5-9. If you are interested, please email us at [email protected] or come in to purchase your tickets.
---